Tractor
Date:2022/4/1 20:25:22 Visits: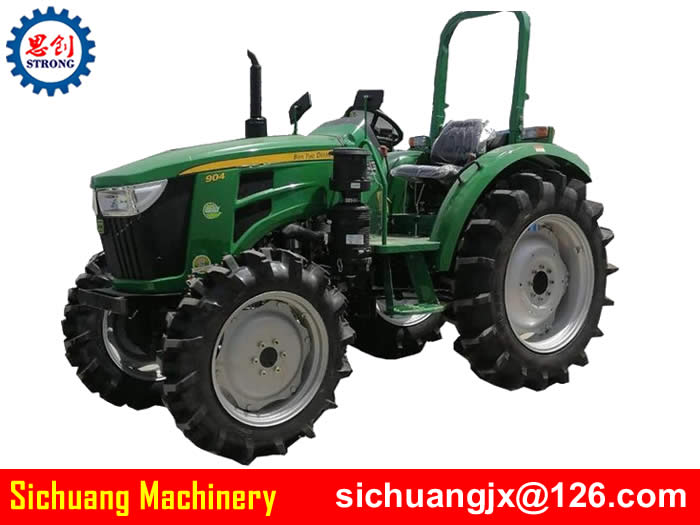 Tractor video
Tractor Description
Tractor is a self-propelled power machine used to tow and drive operation machinery to complete various mobile operations. It can also be used as fixed operation power. It is composed of engine, transmission, walking, steering, hydraulic suspension, power output, electrical instruments, driving control and traction systems or devices. The engine power is transmitted from the transmission system to the driving wheels to drive the tractor. In real life, it is common to use the rubber belt as the power transmission medium. Agricultural, industrial and special purpose tractors according to their functions and uses; According to the structure type, it can be divided into wheeled tractor, crawler tractor, ship tractor and self-propelled chassis. The tractor has 18-220 horsepower. The tractor is suitable for plains, mountains, hills, paddy fields, orchards, grasslands, pastures and other areas. It can complete various field operations such as ploughing, ploughing, harrowing, sowing, fertilization and harvesting, as well as transportation and fixed operations.
Although the tractor is a relatively complex machine with different types and sizes, they are all composed of engine, chassis and electrical equipment, each of which is indispensable.
1. Engine: it is a device for the tractor to generate power. Its function is to convert the heat energy of the fuel into mechanical energy and output power to the outside. Most agricultural tractors produced in China use diesel engines.
2. Chassis: it is the power transmission device of the tractor. Its function is to transmit the power of the engine to the driving wheel and working device to drive the tractor and complete the mobile operation or fixed function. This function is realized through the mutual cooperation and coordination of transmission system, walking system, steering system, braking system and working device. At the same time, they constitute the framework and body of the tractor. Therefore, we collectively refer to the above four systems and one device as the chassis. In other words, in the whole tractor, all other systems and devices except the engine and electrical equipment are collectively referred to as the tractor chassis.
3. Electrical equipment: it is a device to ensure the power consumption of the tractor. Its function is to solve lighting, safety signal and engine starting.
Check the types and working principles of agricultural walking tractors:
1. There are many tractor models: both ordinary and improved luxury models, which can meet the needs of different customer groups.
2. Tractors can be divided into two-wheel drive and four-wheel drive tractors. Tractors have corresponding four-wheel drive deformation at the same power level. Compared with tractors with the same power, these models have the advantages of good adhesion, large traction, trafficability, operability, mobility and working stability. They can better meet the use of paddy fields, hills, grasslands, soft and humid lands and areas with complex terrain, and have high productivity, With good economic benefits, the hydraulic steering device can be selected, which is flexible and convenient to operate and reduces the labor intensity of the driver.
3. The tractor has narrow track, medium track and wide track, which can be used in different areas.
4. Equipped with advanced power: all equipped diesel engines use well-known brand diesel engines, with low fuel consumption, low noise, easy to start, advanced performance and durability.
Structural features and outstanding advantages of Sichuang agricultural 4WD tractor:
1. High reliability, mean time between failures is much higher than the industry standard;
2. Reinforced chassis, high traction, strong power output and higher operation efficiency;
3. The power take-off shaft shift and the auxiliary transmission of the transmission adopt the meshing sleeve shift, which is easy to shift and does not disengage;
4. Reasonable gear distribution, ideal working speed required for various farmland operations and transportation, and better operation efficiency;
5. Matched with the "national II emission standard" four cylinder direct injection engine, the torsion reserve is greater than 15, the horsepower is strong, easy to start and the fuel consumption is low;
6. The common wheelbase is 1.3-1.5m, which is very suitable for ridge crop operation with a ridge distance of 65-75cm;
7. It is suitable for dry land and grassland operation. It can be equipped with rotary cultivator, pulper, plow, rake, planter, intertillage fertilizer applicator, EBA killing machine, trailer, backhoe, trencher and other agricultural machines and tools.