Trencher
Date:2022/1/26 16:24:50 Visits: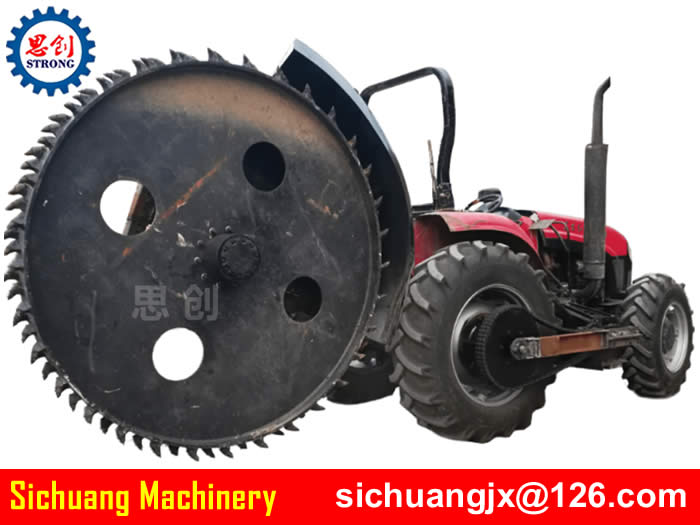 Trencher video
Trencher Description
The disc ditching machine can be used to excavate narrow and deep underground trenches in construction projects to bury underground drainage pipes, or in railway, post and telecommunications, urban construction and other departments to bury cables and pipelines, and can also be used for ditching, fertilization, drainage and irrigation in orchards, vegetable gardens and other farmland environments. The large disc trencher adopts integral structure and suspension link, and is driven by rear output shaft. It is applicable to the ditching of roadside stones on both sides of rural roads and the construction of landscaping. The disc ditching machine adopts alloy cutting tools and is suitable for ditching hard pavement such as asphalt road, concrete and water stabilized pavement. The disc ditching machine developed and produced by our company is very suitable for agriculture and engineering because of its neat shape, loose soil, uniform depth up and down and symmetrical width. In agriculture, it is very suitable for farmland irrigation, pipeline laying, orchard management, crop planting and harvest, etc. In terms of engineering, it is very suitable for ditching along stone, highway, concrete pavement, frozen soil, etc. It is a kind of trenching and trenching machinery used in earthwork construction. It is similar to excavator in many ways. It has the functions of soil penetration, soil crushing and soil borrowing.
5 advantages of disc trencher:
1. The effect of slotting and trenching is good: the open ditch can be as narrow as 10-40 cm, up to 1.2 meters deep, and the ditch is straight and steep, forming at one time;
2. Good quality and long service life: the disc ditching machine developed by our company is made of special materials and improved technology, with long service life;
3. High trenching efficiency: it is incomparable between manual and excavator, and the operation efficiency is 3-5 times that of excavator. Especially in excavating oil parking pavement and cement pavement, the operation effect of disc trencher is particularly prominent.
4. The disc trencher has the advantages of reasonable structure, simple operation and convenient maintenance.
5. Better slotting quality. The road edge wall cut by the road edge stone trencher is flat, the depth of the groove is fixed, and the groove is straight. It is on one line, which is very suitable for laying the road teeth.
6 outstanding features of disc ditcher:
1. The structure design of the disc ditching machine is reasonable, and the steel of the machine body is thickened, which is very safe and worry-free.
2. It can work continuously for a long time, which is really easy to use, durable and greatly improves work efficiency.
3. One machine is multi-purpose and widely used. It can be applied to engineering construction and agricultural production.
4. Suitable for all kinds of soil, hard soil, clay, black soil, mountain, soft soil and cement land.
5. Good trenching effect, flexible adjustment of depth and width, convenient operation, simple and practical. Especially when excavating narrow and deep trenches (buried pipelines or cables), the operation effect of the machine is more prominent.
6. Wide supporting power and simple operation. As long as the user who can drive the tractor can control the trenching operation.
| | | | |
| --- | --- | --- | --- |
| Machine name | Disc Trencher | Power source | Diesel oil |
| Driven by | Tractor | Ditching speed | 1m/min |
| Ditching width | 10-40cm(Can be customized) | Trenching depth | 30-120cm(Can be customized) |