Rotary Tiller
Date:2022/1/22 11:31:55 Visits: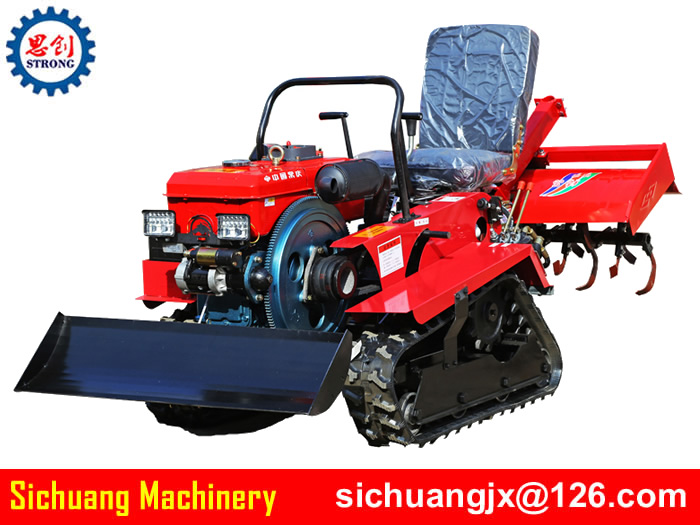 Rotary Tiller video
Rotary Tiller Description
Crawler micro Rotary Tiller adopts crawler drive design, with strong stability and climbing ability. It is suitable for various terrain in hills, mountains and plains, small model and high power. It is suitable for rotary tillage, soil loosening, ditching, backfilling, soil cultivation, ridging, weeding, fertilization, pesticide spraying and other operations of fruit trees, greenhouses and gardens with various row spacing. The frame design is reasonable and the thickened steel plate is adopted to effectively reduce the vibration generated by the engine and prolong the service life of the machine. The traveling gearbox and power output gearbox are adopted respectively to make the small machine have large power, reduce load and prolong service life. Three forward gears and one reverse gear are equipped with high and low speed respectively, with a total of 8 gears. The chassis is reinforced and raised, and the special track for paddy field is widened and thickened, with a width of 25 cm. Each roller is made of cast steel, with waterproof bearing oil seal inside. It can be used for both flood and drought, and the car will not sink in the mud. It can be equipped with a variety of agricultural tools, which can be used together with walking tractor 101 agricultural machines and tools. One machine is multi-purpose. It is suitable for small paddy field operation. It is a blessing for small farmers and small paddy field growers.
Structural features of crawler micro Rotary Tiller:
1. The user can sit on the machine seat, which saves physical strength and improves work efficiency.
2. 3 forward gears, 1 reverse gear, multi gear control speed. The cutter has forward rotation, reverse rotation, neutral and traveling half shaft transmission, and it is safer to adopt anti derailment.
3. Low fuselage, double track design. It has strong trafficability, stability and climbing ability, and can adapt to all kinds of terrain.
4. One key start, front and back adjustment, back adjustment and safety belt. More protection, more confidence. The crawler protective fender is designed to be more safe and reliable.
5. The integrated gearbox is convenient and simple to maintain. The main gearbox and tool speed change device are integrally cast, which is not easy to deform. The machining accuracy of the NC machining center is higher, and the assembly is operated in strict accordance with the standards.
6. All kinds of operation tools are hydraulic lifting, easy to operate and easy to use.
7. One machine can be used for multiple purposes. Replacing corresponding accessories can realize the functions of ditching, rotary tillage, ridging, weeding, backfilling, spraying medicine and so on.
8. Thickened rubber track, containing high-strength steel wire layer, folding and bending resistance, and the rubber is not easy to aging.
9. After derusting and grinding, the fuselage is derusted by pickling and phosphating, electrostatic plastic spraying on the surface, high-temperature baking and rapid hardening. It has the advantages of high paint hardness, not easy to rust and fall off,.
Precautions for use of crawler micro Rotary Tiller:
1. Before using the crawler micro cultivator, you must carefully read the operation manual and master the correct operation method before use.
2. Children and personnel without operation ability are strictly prohibited to operate.
3. Before use, conduct a comprehensive inspection on the fastening parts to ensure that all fasteners are firm and reliable.
4. Lubricate all lubricating parts before each use to ensure that all lubricating parts are well lubricated.
5. Check whether the V-belt tightness is appropriate and whether the two belts are parallel, otherwise adjust it. During adjustment, loosen the machine sizing block bolts, adjust the longitudinal and transverse positions of the engine, make the V-belt elastic properly, make the grooves of the two pulleys in the same plane, and tighten the bolts.
6. Check each joystick and ensure that the cable is flexible and reliable.
7. During rotary tillage, the width of rotary tillage can be adjusted by increasing or decreasing the number of knife groups, and the depth of rotary tillage can be adjusted by adjusting the guide rod.
8. Place the shift lever in the neutral position, the clutch is in the disengaged state, start the engine (strictly follow the engine operation manual when starting the engine), and check whether each gear of the two shift levers is flexible and reliable.
9. Step on the clutch slowly when you are ready to engage, so that you can start when the clutch is released gently, check whether the gear is normal and whether there is abnormal sound, and step on the clutch to engage again immediately in case of abnormality.
10. It is forbidden to step on the brake clutch integrated rod during operation, so as not to cause semi linkage, burn out the clutch, fail to shift normally and cannot be used.
11. For the adjustment and use of agricultural machines and tools, see the instructions for the use of agricultural machines and tools.
12. See engine operation manual for engine operation.
Application scope and purpose of crawler micro Rotary Tiller:
1. The walking operation adopts chain rail type, which is stable and balanced, with large traction force, low fuel consumption, multiple functions, reliable performance and flexible operation.
2. The armrest can be adjusted up and down, and the left and right can rotate in place with 360 degree bearing.
3. The utility model has a wide application range and can be used for rotary tillage, deep tillage, weeding, tillage, ploughing, hard land ditching, soil preparation, sowing and fertilization, ridging and film covering in greenhouses, mountains, hills, orchards and plains.
4. Hard work.
5. Earth work.
6. Weeding operation: weeding width: 150mm-1000mm, weeding depth: 20mm-50mm, suitable for weeding operation in corn, orchard, tea garden, mulberry garden, tobacco and vineyard, with an operation efficiency of 2400m2 per hour.
7. Ridging operation: ridge top width: 100mm-300mm, ridge bottom width: 300mm-1000mm, ridging height: 200mm-400mm, operation efficiency: 1800 square meters per hour, suitable for: soybean, peanut, sweet potato, tobacco, ginger and various vegetables.
8. Film covering operation: film covering width: 700mm-1000mm, operation efficiency: 2400m2 per hour.
9. Ridge sealing and soil cultivating operation: it is especially suitable for ridge sealing and soil cultivating of corn field in Northeast China. It has large traction, stable operation, convenience and flexibility, and the operation efficiency is 1800 square meters per hour.
Model

SC-16

SC-18

SC-22

SC-24

SC-28

SC-35

Diesel engine

16HP

18HP

22HP

24HP

28HP

35HP

Rotary tillage width(cm)

90-100

90-100

90-120

90-120

90-120

90-120

Ditching width(cm)

25-30

25-30

25-30

25-30

25-30

25-30

Weeding width(cm)

90-100

90-100

90-100

90-100

90-100

90-100

Backfill width(cm)

100

100

100

100

100

100

Bulldozing width(cm)

90

90

90

90

90

100

Travel gear

3+1

3+1

3+1

3+1

3+1

3+1

Rotary tillage efficiency

1300㎡/h

1800㎡/h

1800㎡/h

2200㎡/h

2200㎡/h

2600㎡/h

Weight

530kg

580kg

630kg

680kg

730kg

800kg

Dimension(cm)

230*90*80

245*90*85

250*90*90

250*90*90

260*90*100

270*100*100

Scope of application

Mountains,hills,greenhouses,nurseries,orchards,flower field and medium and small plots

Main function

Bulldozing, rotary tillage, trenching, backfilling, weeding

Advantages

Turn around in place, hydraulic lifting, manned, strong climbing ability and trafficability