Snow Blower
Date:2022/2/10 12:31:51 Visits: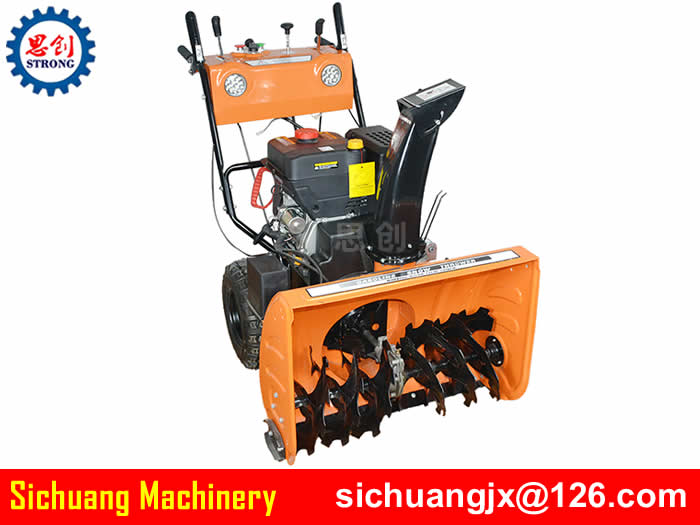 Snow Blower video
Snow Blower Description
The multifunctional snow blower has the advantages of mass, small volume and convenient operation. The multifunctional snow thrower is equipped with a handle that meets the engineering and impact performance. The snow sweeping operation can be carried out quickly and conveniently. Equipped with novel built-in lights, it can easily carry out snow work anywhere without separate power supply. Compared with the traditional hand push snow sweeper, it is much more flexible and efficient. It can effectively clean the snow in the road area, and can be used to quickly clean the highway ground and remove the impurities in the road. The machine is small and flexible, low price, multi-function and labor-saving. There are 10-20 labors on top of one machine. It is a winter snow clearing machine widely used by organs, units, schools, parking lots, squares, property communities, gardens, non motorized lanes and so on.
Advantages of walking gasoline engine double screw snow thrower:
1. Save management costs and reduce the traffic accident rate of sanitation workers.
2. Reduce the use of snow melting agent, protect the environment and beautify the city.
3. Mechanized snow removal to provide urban grade.
4. The anti-corrosion safety function switch is easy to operate. When the manual switch is released, the snow sweeping device stops working. The snow throwing distance that can be operated by one hand can reach 10-15m.
5. The snow lifting direction can be set separately, and the service life of the snow lifting device is long.
6. The working mode is simple and meets European quality standards.
7. Non electric start and battery start can be selected according to demand.
8. There is a hot handle. After the machine is started, there is temperature at the handrail, and the hands feel very warm.
9. All electrically started machines are equipped with lighting lamps, which can also work at night or in the morning.