Plate Compactor
Date£º2022/2/10 15:55:02 Visits£º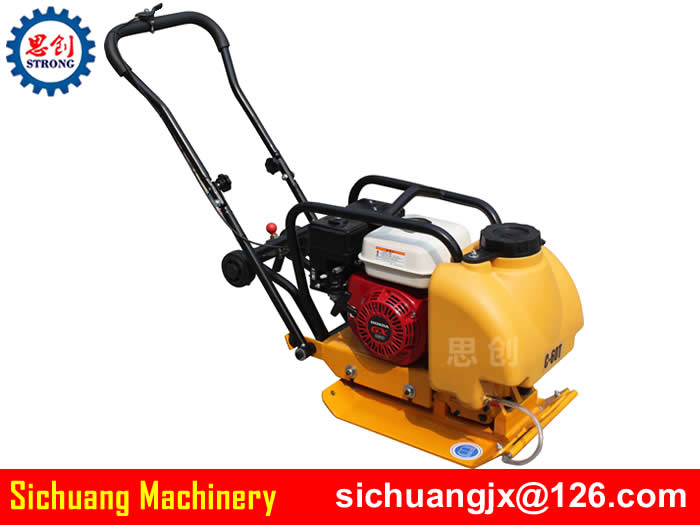 Plate Compactor video
Plate Compactor Description
Vibratory plate compactor is mainly used to tamp materials with small bonding force and friction between particles, such as river sand, gravel and asphalt. The main working parameters of the vibrating plate rammer include: the bottom area of the working plate, the mass of the whole machine, the exciting force and the exciting frequency. Generally, the floor area of flat plates of the same specification is the same, so the performance of flat plate impact rammer is mainly affected by the whole machine quality, exciting force and exciting frequency. The exciting force is mainly used to maintain the forced vibration of the compacted material; The excitation frequency affects the compaction efficiency and compaction degree, that is, under the same excitation force, the higher the excitation frequency, the higher the compaction efficiency and compactness.
Flat compactor is mainly used for bridge, culvert, corner, shoulder, slope protection, railway subgrade compaction, dam body and slope protection, concrete trench and backfill compaction, concrete pavement repair and compaction, municipal side ditch, wellhead, pipe side compaction, etc. it is used for pile pulling and breaking when necessary. Applicable to highway, railway, port, construction, water, municipal and other infrastructure construction and maintenance departments. It is installed in the original bucket position at the front end of the stick and is driven and operated by the hydraulic power of the excavator (installed and controlled by the hydraulic crusher).
Advantages of plate compactor and performance of diesel plate compactor:
1. The open bottom plate is convenient for self-cleaning.
2. The attached walking wheel is convenient for transportation and travel (walking wheel can be optional).
3. The enclosed belt cover prevents sand from entering the machine.
4. The efficient damping block can reduce the vibration of the engine and handrail above.
5. The bottom plate rolled up at the front is easy to access all corners.
Operating procedures for gasoline vibrating plate compactor for walking asphalt pavement:
1. Check the engine oil level to the required level before starting. Use No. 93 non gasoline and add it when stopping.
2. Check whether the links of each screw are loose before work, and fasten them in time if necessary.
3. During operation, the clutch of the plate vibratory rammer transmits power, the accelerator should be added to the position, and the machine runs at a medium speed.
4. When starting the engine, first open the oil circuit switch and electromagnetic switch, close the choke during cold start, pull the handle (gently pull to feel the resistance) and open the choke after hard pull, and operate at idle speed for 3-5 minutes; When the accelerator is running and the clutch is engaged, the plate vibratory rammer begins to vibrate.
5. Hold the handrail to grasp the direction, the plate vibration rammer is moving forward, and change the steering handle to complete the work when retreating.
6. Shutdown: after the work is completed, the engine idles for 3-5 minutes, and then turn off the electromagnetic switch and oil circuit switch.