Log Splitter
Date£º2022/2/28 13:45:53 Visits£º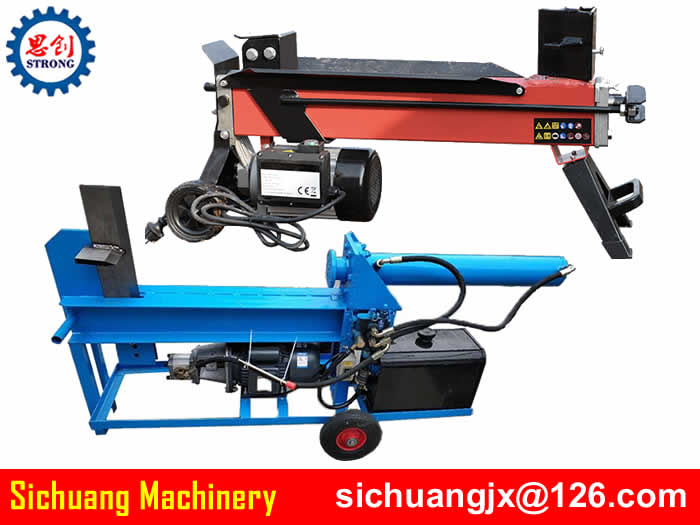 Log Splitter video
Log Splitter Description
The hydraulic Log Splitter is suitable for small household firewood chopping with simple design. The chopper is suitable for small household firewood chopping with simple design and solid leather. The design of key parts is safe, which makes the use more humanized and safer while ensuring the performance of the equipment. It is suitable for small household firewood chopping, with simple design and solid leather. The hydraulic wood chopper is an important auxiliary equipment in the processing industry. The medium-sized wood chopper we produce and design can realize the dual-purpose of standing and lying, and can use the motor or gasoline engine as the power to meet the needs of fully mobile operation.
The function of the firewood chopper is to use the hydraulic working principle to split the stump, large branch, large log section and hard wood to meet the requirements of the feeding size of the chipper, or cut the raw materials into small pieces for firewood burning and crushing. Wood chopper is an important material preparation machine in paper industry, man-made board industry, wood pulp processing and other industries. The equipment can split the wood with too large diameter, too long length and special shape, which is not conducive to processing. It is propelled by hydraulic cylinder. It has the characteristics of high pressure, time-saving and labor-saving, reasonable structure, firmness, high output, easy operation and more safety.
Features and advantages of household mobile electro-hydraulic firewood chopper:
1. Raw materials: the whole machine is made of high-strength wear-resistant steel, which is stronger and more durable.
2. Blanking: the whole process of NC blanking and processing makes the body more upright and firm.
3. Cutter: adjustable and replaceable, can split two or more lobes. There is no longer the embarrassment that the cutter is damaged and the equipment can not be used.
4. Accessories: new all copper motor, new oil pump and valve body, all fake and shoddy and secondary renewal.
5. Rollers: all are equipped with solid rollers at the bottom, which can go back with you, eliminating the trouble of tire puncture.
6. V-shaped discharging table: free your hands and automatically adjust the center of the wood. You don't have to worry about splitting your hands.
7. Push block with rail: no offense, no fear of torsion. Don't break the piston rod by chopping the roots.
8. Winch oil cylinder: higher strength and better performance.
9. Piston rod: solid round material, more reliable strength.
10. The working efficiency is much higher than that of ordinary band saw, with high safety factor. The machine is not easy to be damaged and hurt people.
11. Simple operation, easy to learn and understand, energy saving, low power consumption, environmental protection, no noise, no dust.