Log Cutting Saw
Date:2022/1/4 15:45:10 Visits: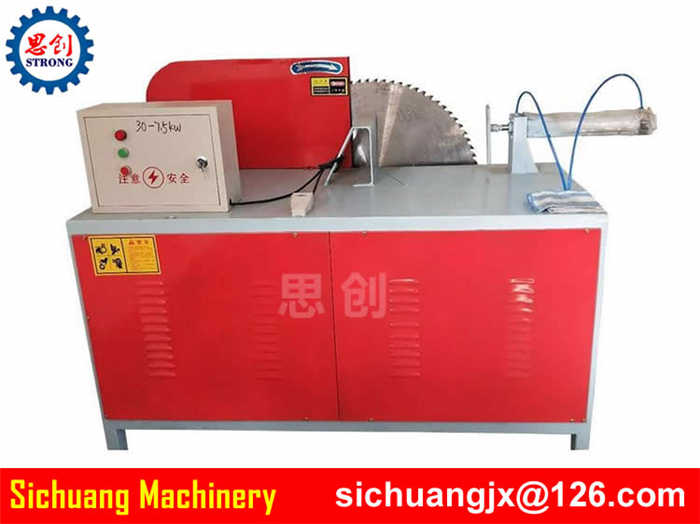 Log Cutting Saw video
Log Cutting Saw Description
Wood cutting saw is a high-efficiency cross-section saw, which has the advantages of high efficiency, automatic control, safety and reliability. The saw blade is pneumatically controlled to move back and forth. After the operator pushes the wood section forward against the front fixed length limit switch, the pressing cylinder will automatically clamp the wood section, the saw blade will automatically extend out and automatically return after cutting off the wood section. The full-automatic round wood cutting saw can cut the wood into wood sections of uniform length, which is developed and manufactured for the veneer processing industry and transportation industry. The log saw can feed and cut automatically, and can cut curved wood.
6 advantages of log cutting saw:
1. The new round wood cutting saw is efficient and safe, with automatic feeding function. It can automatically cut the wood section according to the required length, and then automatically transport the wood section to the feeding place of peeling machine and rotary cutting machine.
2. The full-automatic sawing machine can operate the work of wood sawing with only one person, and the output can be as high as 200 m3 per day.
3. The log cutting saw is efficient and fast, easy to operate and saves labor. One person can operate the job of sawing wood.
4. The round wood cutting saw adopts an automatic feeding device, which can send the sawn two sections of logs back to the feeding port of the peeling machine or rotary cutting machine.
5. The log cutting saw adopts the side moving pneumatic principle, and the automatic saw blade can cut the log instantly, which is efficient, fast, safe and convenient.
6. The cutting saw can freely adjust the cutting round-trip speed and has a high degree of automation. It is an ideal helper for log processing machinery.
Model

SC-30

SC-35

SC-40

Cutting diameter

0-32mm

0-37mm

0-42mm

Motor power

7.5kw

7.5kw

11kw

Cooling mode

No cooling required

Feeding speed

The feeding speed is adjustable

Spindle speed

1450r/min

1450r/min

1450r/min

Saw blade specification

800mm

900mm

1000mm

Dimension

1.5*1.2*0.8m

1.5*1.2*0.9m

1.5*1.2*1m

Weight

450kg

500kg

650kg