Band Saw
Date:2022/1/4 17:07:34 Visits: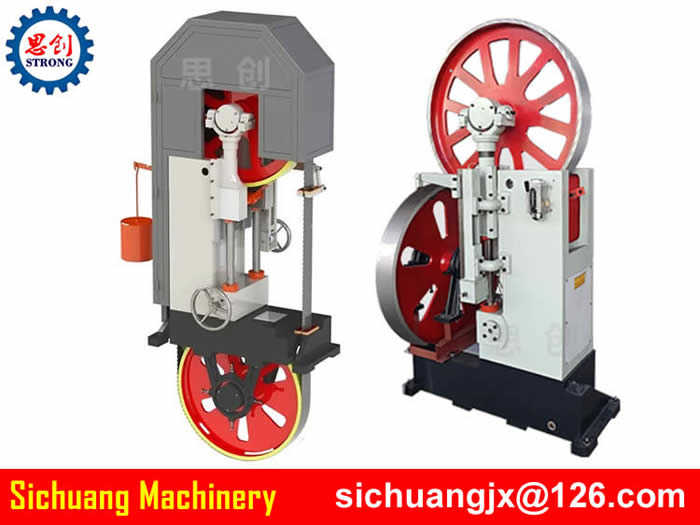 Band Saw video
Band Saw Description
Woodworking band saw is a sawing machine that uses a ring-shaped endless band saw blade as a sawing tool and makes unidirectional continuous linear movement around two sawing wheels to cut wood. It is mainly composed of bed, saw wheel, upper saw wheel lifting and pitching device, band saw blade tensioning device, saw blade guide device, worktable, guide plate, etc. The bed is made of cast iron or steel plate welded. The saw wheel of the band saw machine is divided into a strip type upper saw wheel and a plate type lower saw wheel; The lower saw wheel is the driving wheel and the upper saw wheel is the driven wheel. The weight of the upper saw wheel shall be 2.5 ~ 5 times lighter than that of the lower saw. The cutting speed of band saw blade is usually 30 ~ 60m / s. The upper saw wheel lifting device is used for loading, unloading and adjusting the tightness of the band saw blade; The upper saw wheel pitching device is used to prevent the band saw blade from falling off the saw wheel during sawing. The band saw blade tensioning device of the band saw machine can endow the upper saw wheel with elasticity to ensure the stability of the tension of the band saw blade during operation; The old band saw adopts spring or lever weight mechanism, while the new band saw adopts pneumatic and hydraulic tensioning devices.
Safe operation instructions for woodworking band saw:
1. The thickness of band saw blade shall adapt to the matching band saw wheel. Avoid the use of large thickness saw blade for small wheel, resulting in fracture and personal injury.
2. The sawtooth shall be sharp, and the tooth depth shall not exceed 1 / 4 of the width of the saw blade.
3. The band saw blade shall be welded firmly and smoothly, with more than 3 joints. The length between the two joints shall be more than 1 / 5 of the total length, and the joint thickness shall be basically the same as that of the saw blade.
4. The transverse crack of the band saw blade shall be strictly controlled. If the crack is too long, it shall be cut off and re welded (see Table 1).
5. The sports car track of large band saw shall be straight, with travel switches at both ends, and warning bars shall be set on both sides of the sports car.
Model

MJ-3210

MJ-329

MJ-328

MJ-316

Saw wheel diameter(mm)

1070

900

800

600

Saw wheel width(mm)

125

100

100

60

Saw wheel speed(r/min)

750

750

850

800

Max center distance

between two saw wheels(mm)

1850

1700

1450

1200

Mini center distance

between two saw wheels(mm)

1600

1600

1300

1100

Diameter of sawn timber(Φmm)

1000

800

700

600

Band saw blade specification(mm)

7050×150×1.25

6150×125×0.9

5400×100×0.9

4400×75×0.7

Motor power(kw)

22

15

7.5-11

5.5-7.5

Motor speed(r/min)

1500

1460

1440

1440

Sawing efficiency(m³/h)

70

50

40

20

Machine dimension(mm)

1450×1060×2920

1500×970×2500

1200×600×2250

1300×800×1850

Machine weight(kg)

1100

950

800

680

Sawing thickness range(mm)

15-1175

10-175

5-140

5-200