Multi Rip Saw
Date:2022/1/4 15:50:05 Visits: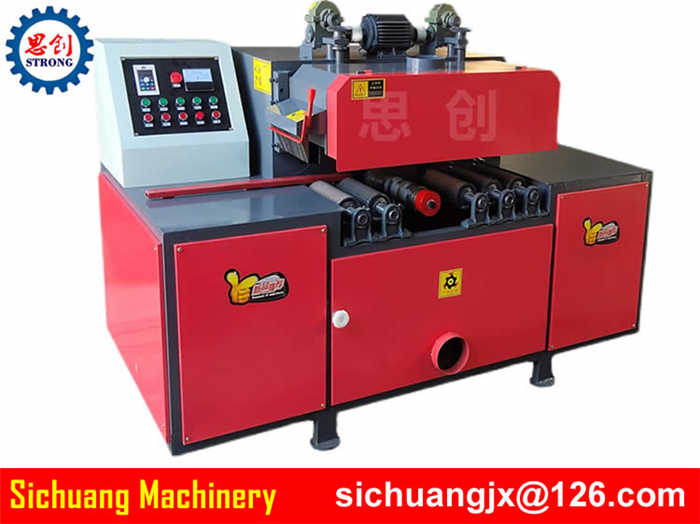 Multi Rip Saw video
Multi Rip Saw Description
The main function of square wood multi rip saw is to cut square wood and process it into multi specification square blades. It can process square plates of various thicknesses. It has the advantages of smooth feeding, no burning of saw blades, small sawing path, high efficiency and high safety. You can replace the cushion sleeve according to the specifications of the plates you want to saw, and saw different plates. There are no restrictions on the length of materials and the width of plates. Square wood multi rip saw can process poplar Pine, eucalyptus, Chinese fir, Qinggang wood and other hard miscellaneous wood boards. The high efficiency of square wood multi rip saw in processing makes it popular at home and abroad, and with the progress of the times, square wood multi blade saw has gradually realized automation. This more meets the strong demand of the market. In the wood processing industry, all kinds of multi blade saws and band saws in China are necessary machines, so as long as the furniture industry is still in the square wood multi blade saw, the advantages will not be eliminated.
Structural features of square wood multi rip saw:
1. Heavy duty design, firm and stable performance.
2. Upper and lower shaft structure, multi blade sawing and continuous discharge, which is 5-6 times higher than that of band saw.
3. Infrared alignment device to reduce wood waste.
4. The company's axis water spray patent improves the service life of the saw blade.
5. Multi power feeding in the whole process to reduce the labor intensity of workers.
6. The design of dual bulletproof device is safe and scientific.
7. The roller pressing device adopts double fulcrum roller with power, which can feed smoothly without jamming.
Advantages of square wood multi rip saw:
1. Safe operation, semi-automatic feeding system, no potential safety hazard. High yield, about 20 cubic meters per day (8 hours).
2. Simple operation, only ordinary employees can process high-precision sheet metal. The thickness of the sheet can be adjusted freely, and sawing is used instead of planing. The surface of the finished product is smooth without planing.
3. The ultra thin saw blade adopts 1.4mm-3mm. High precision, no big and small head problem, reduce process, reduce wood waste and increase wood utilization.
4. The cooling and dust removal system can prevent the saw blade from working at high temperature for a long time, prolong the service life of the saw blade and reduce dust.
Model

SC-6

SC-8

SC-10

SC-12

SC-15

SC-18

Feed length (cm)

30-400

30-400

30-400

30-400

40-400

40-400

Feed thickness (cm)

1-6

2-8

3-10

3-12

5-15

5-18

Feed width (cm)

Unlimited

Unlimited

Unlimited

Unlimited

Unlimited

Unlimited

Main motor power (kw)

15+18.5

18.5*2

18.5*2

18.5*2

22+18.5

22+22

Feeding motor power (kw)

1.1

1.1

1.1

1.1

1.1

1.1

Feeding speed (m/min)

1-10 (Adjust the feeding speed through the frequency converter)

Saw blade specification (mm)

160

180

205

230

255

280

Spindle diameter(mm)

50

50

50

50

50

50

Spindle speed (r/min)

3400

3400

2930

2930

2930

2930

Cooling mode

Axial water injection

Daily output

About 20m³/day (8 working hours per day)

Size (cm)

100*200*130

100*200*150

100*200*155

100*200*160

100*200*167

100*200*172

Weight (kg)

1300

1300

1400

1400

1450

1500