Table Saw
Date:2022/1/4 16:19:49 Visits: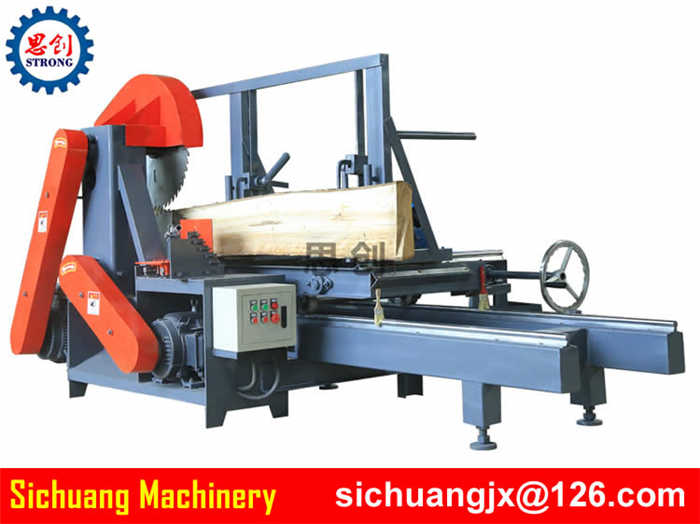 Table Saw video
Table Saw Description
Log sliding table saw is an ideal product to replace band saw. It is suitable for veneer processing of all kinds of large-diameter logs. It has high processing accuracy and fine workmanship. Log sliding table saw machine can cut logs with a diameter of 50cm. The utility model has the advantages of simple operation and can freely adjust the specification of the processed plate without the operation of a professional sawing master; Compared with the band saw, the processing efficiency is greatly improved, and the processed products are smoother and standard, and do not need to be processed twice by planer and other equipment. It is very suitable for the processing of joinery board, finger board, wood line, plate and square material. It is an industry of construction, furniture, wood, processing and so on.
Advantages of high-precision round wood sliding table saw:
1. The new sliding table saw has the nature of band saw, but its efficiency is more than 4 times that of band saw.
2. Strong safety. The protective cover is designed according to the same direction of saw blade rotation.
3. The saw pin surface is smooth and flat, which is suitable for processing hard miscellaneous wood and large diameter round wood.
4. It can process large-diameter wood that cannot be processed by round wood multi blade saw, and the processed products are smooth and standard. It does not need to be processed twice by planer and other equipment, and the band saw can be completely eliminated.
5. The low-power motor is used as the power to save energy consumption, and the pneumatic device is used to automatically fix the wood. After feeding, the pneumatic device will automatically press the wood, with uniform pressure and smoother cutting.
6. Fast, flexible, safe and reliable. Advanced technology, simple operation, no professional master, stable performance and adjustable specification.
7. The required board specifications can be adjusted at will. The thinnest board can be sawed with 5mm, with smooth feeding and fine processing.
8. Upper and lower single saws (the upper and lower saws are designed with smaller sawing path and accurate sawing. The saw pin surface is flat and smooth to avoid band saw bending and pit digging). The saw blade has high speed and does not burn the saw blade.
9. Workers, ordinary workers and one person can operate.
10. High efficiency. One round wood multi blade saw can offset the output of four traditional band saws, greatly saving labor costs.
Model

SC-30

SC-35

SC-40

SC-45

SC-50

Diameter of processed log

30cm

35cm

40cm

45cm

50cm

Processing log length

1-6m, The processing length can be customized according to customer needs

Spindle speed

3800r/min

3800r/min

3800r/min

3800r/min

3800r/min

Saw blade specification

405mm

455mm

500mm

550mm

600mm

Saw blade layout

Optional upper and lower double saw blades or upper and lower four saw blades

Voltage

380v

380v

380v

380v

380v

Motor power

7.5kw+7.5kw

7.5kw+7.5kw

7.5kw+11kw

11kw+11kw

11kw+11kw

Feeding speed

10m/min,Adjust the feeding speed according to the hardness of the processed wood

Feeding mode

Manual, semi-automatic and NC full-automatic are optional

Processing efficiency

An average of 40 cubic meters of wood are processed a day

Machine height

1.6m

1.6m

1.6m

1.6m

1.6m

Machine width

1.6m

1.6m

1.6m

1.6m

1.6m

Machine length

The length of the machine is twice the length of the longest wood processed

Special shaped products can be customized according to customer requirements