Sawmill
Date:2022/1/4 17:05:44 Visits: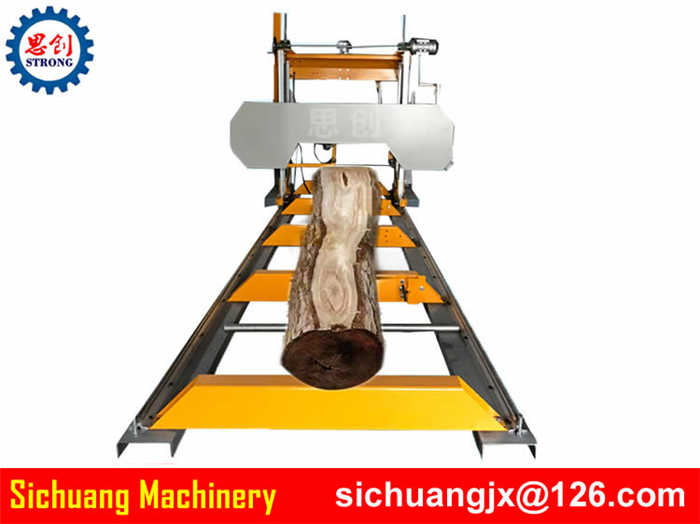 Sawmill video
Sawmill Description
Horizontal band saw sawmill is a tool for removing the wood skin at the bottom of log by horizontal band saw. Horizontal band saw can be specialized in the production and processing of mahogany furniture, pine, etc. when processing, it can save labor, material and environmental protection. It is the first choice for all wood processing factories and furniture factories. The horizontal woodworking band saw sawmill is composed of saw frame, parallelogram adjusting device or four screw adjusting device, grinding saw, track and lifting support. When the machine works, the wood is fixed, the track is stably fixed on the wood, the saw is installed on the track, and the thickness of the processed wood is adjusted through the parallelogram adjustment device to make the saw cut along the plane of the wood. Sawmill can not only process large and super long wood easily and labor-saving, but also ensure the quality. It is widely used for mobile processing in sawmills, shipyards and mountain wood logging yards.
Advantages of horizontal woodworking gantry saw sawmill:
1. The main cutting motion of the saw blade is unidirectional and continuous, so it is easier to improve the cutting speed.
2. Band sawing machine can adopt single sawing to realize reasonable viewing and sawing, which is conducive to improving talent yield and finished product quality.
3. A thin saw blade can be used on the band saw, and the saw path is narrow, which can relatively reduce the loss of sawdust.
Model

SC-590

SC-690

SC-790

Saw wheel diameter

405mm

485mm

485mm

Cut log diameter

590mm

690mm

790mm

Cut square timber width

590mm

690mm

690mm

Single cut thickness

145mm

190mm

190mm

Thinnest cuttable thickness

24.5mm

24.5mm

24.5mm

Minimum processing length

1000mm

1000mm

1000mm

Standard processing length

3400mm(Extendable)

3400mm(Extendable)

3400mm(Extendable)

Standard weight

360kg

410kg

440kg

Dimension

4.3m*1.25m*1.7m

4.3m*1.25m*1.8m

4.3m*1.25m*1.9m

Power system

220v/3kw or 380v/4kw

220v/3kw or 380v/4kw

220v/3kw or 380v/4kw

Optional power system

The machine can also be powered by diesel engine or gasoline engine