Knife Sharpener
Date:2022/1/4 17:39:16 Visits: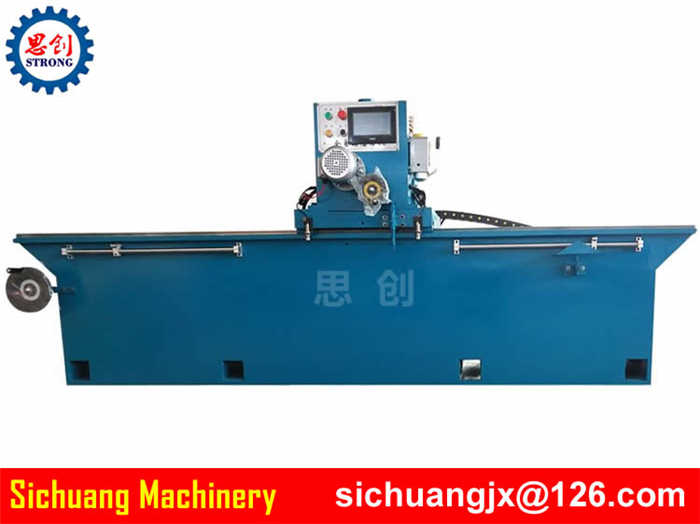 Knife Sharpener video
Knife Sharpener Description
CNC electromagnetic knife grinder is mainly used for polishing and grinding of various straight cutting tools and straight workpieces. The body of the knife grinder is a closed welding structure, which greatly improves the strength of the body and effectively prolongs its service life. The transmission part of the knife grinder is rack transmission, which overcomes the disadvantage of uneven speed and greatly improves the stability and reliability of the knife grinder. The cutter grinder also adopts the design of automatic feeding, which effectively improves the degree of automation, saves the manpower and time required for manual feeding, and improves the labor intensity of the operator.
Main features of CNC electromagnetic knife grinder:
1. The knife grinder series adopts a gantry structure body made of carbon steel. The transmission and positioning of the grinding head is adjustable. The guide rail is subject to precision scraping and grinding technology, so that the service life of the whole machine is longer. The aviation turbine deceleration system is adopted, and the rack back and forth makes the stroke transmission more stable.
2. It is suitable for grinding the straight blade of cutting machinery such as rotary cutter, paper cutter, plate shears and planers. It is a necessary tool grinding equipment for printing, papermaking, woodwork, comprehensive utilization of wood, sheet metal and other industries.
3. The automatic device of the whole machine is convenient and fast, especially suitable for large enterprises and grinding processing industry, with high precision, time-saving and labor-saving.
4. In addition, according to the needs of users, mechanical pressing plate type knife grinder or electromagnetic suction cup type knife grinder can be customized.
Press Plate Type Knife Grinding Machine

Model

SC-1500

SC-1800

SC-2200

SC-2600

Machining length

1500mm

1800mm

2200mm

2600mm

Grinding head speed

30m/min

30m/min

30m/min

30m/min

Main motor

3.0kw

3.0kw

3.0kw

4.0kw

Traveling motor

1.1kw

1.1kw

1.1kw

1.1kw

Water pump motor

60w

60w

60w

60w

Grinding wheel speed

1440r/min

1440r/min

1440r/min

1440r/min

Grinding head

Cup grinding wheel(Diameter:200mm;Wall thickness:20mm;Height:110mm)

Worktable size

1470*170mm

1470*170mm

1470*170mm

1470*170mm

Dimension

2900*850*950mm

3200*850*950mm

3600*850*950mm

4000*850*950mm

Weight

380kg

460kg

600kg

900kg
Electromagnetic Knife Grinding Machine

Model

SC-1600

SC-1800

SC-2300

SC-2600

SC-3200

Machining length

1600mm

1800mm

2300mm

2600mm

3200mm

Grinding head speed

30m/min

30m/min

30m/min

30m/min

30m/min

Main motor

4.0kw

4.0kw

4.0kw

5.5kw

5.5kw

Traveling motor

0.75kw Variable frequency motor

Water pump motor

90w

90w

90w

90w

Lifting motor

300w

300w

300w

300w

300w

Grinding wheel speed

1440r/min

1440r/min

1440r/min

1440r/min

1440r/min

Grinding head

Cup grinding wheel(Diameter:200mm;Wall thickness:20mm;Height:110mm)

Worktable size

1470*170mm

1470*170mm

1470*170mm

1470*170mm

1470*170mm

Dimension(mm)

3000*1000*1100

3250*1000*1100

3650*1000*1100

4100*1000*1100

4700*1000*1100

Weight

1100kg

1200kg

1350kg

1600kg

2000kg