Spring Machine
Date£º2022/3/14 22:36:57 Visits£º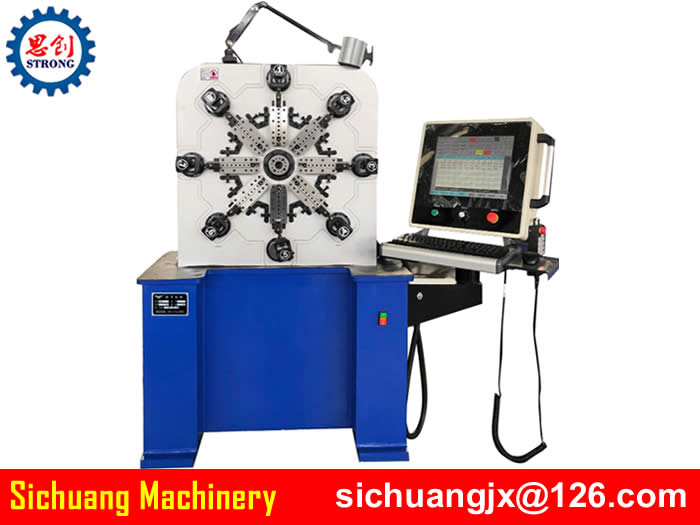 Spring Machine video
Spring Machine Description
Structural features and advantages of CNC spring machine:
1. The machine has no cam and rocker arm, and the mandrel adopts standardized design, which is simple and fast to install! It greatly shortens the debugging and installation time of tool holder and tool, reduces the strength of machine adjustment, further shortens the overall debugging time of products, and reduces the debugging technical threshold.
2. It has the advantages of the traditional 8-Position machine and has a group of free hands, which can play up and down, left and right freely. (it is easier and faster to produce difficult springs)
3. The imported servo motor is adopted, and the transmission and operation accuracy of the imported planetary reducer meet the European standard.
4. The standardized guide rail design is adopted, so that each arm can maintain high stability and reduce the maintenance cost of the equipment.
5. New connecting rod adjustment design, convenient and fast debugging. The outer guide rail has good rigidity and stable movement, reducing machine collision and heating!
6. High intelligent module of the control system, automatic imaging detection and alarm.
7. It has an automatic lubrication system to ensure the long-term operation of the equipment.
Regular maintenance of spring function can reduce the wear speed of spring machine parts, eliminate long-term hidden dangers of the machine, and prolong the service life of the machine. We need to do the following work:
1. We should maintain the machine regularly, mainly focusing on cleaning, fastening, adjustment and lubrication. We should maintain the spring machine according to the requirements before, during and after each work. The work is usually done by the spring operator.
2. We sometimes carry out maintenance according to the requirements of various equipment, and we must also carry out corresponding maintenance for the machine within the specified working hours. Maintenance includes the following contents:
3. First level maintenance refers to changing the key work to the lubrication of the machine on the basis of routine maintenance, and then checking and fastening whether the parts of important parts have been cleaned.
4. The so-called secondary maintenance mainly focuses on inspection and adjustment. Specifically check the working conditions of the engine, clutch, transmission and other components of the spring machine. In case of failure, be sure to stop the machine for necessary adjustment, and start the machine after it is normal, so as to better ensure the working performance of the computer spring machine.
5. For three-level maintenance, its focus is on detection, adjustment and troubleshooting. Moreover, the parts that affect the normal working performance of the machine should be diagnosed and inspected. When necessary, the parts must be replaced or adjusted so that the machine can be used normally.