CNC Lathe
Date:2022/1/4 18:34:09 Visits: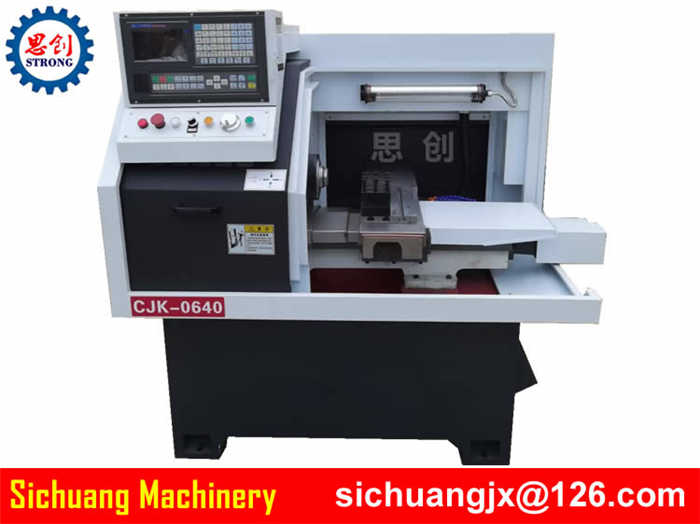 CNC Lathe video
CNC Lathe Description
CNC instrument lathe is a simple CNC horizontal lathe. Generally speaking, most of the machine tools with the largest workpiece processing diameter of less than 250mm belong to instrument lathe. Instrument lathes are divided into ordinary type, hexagonal type, finishing type and automatic type. The lathe bed of CNC instrument lathe adopts the overall structure, resin sand modeling, and the guide rail adopts high-frequency quenching and grinding process, so that the machine tool has good wear resistance and precision retention. The stiffener makes the bed have excellent stiffness, vibration resistance and section distortion resistance. The bed guide rail is fully enclosed with telescopic steel plate protective cover, which effectively protects the service life of the guide rail from damage. CNC instrument lathes adopt spring collet for quick clamping, the motor directly drives the spindle, large and small discs for quick hand wrench operation, and vertical and horizontal positioning to control turning. Some instrument lathes are equipped with flange, tailstock device and die thread following device, which can process outer circle, inner circle, cutting, end face, cutting groove, turning taper, drilling, reaming, tapping, milling, grinding and other functions. It is widely used in the production and processing of small parts such as electrical appliances, fasteners, automobile and motorcycle accessories, instruments and meters, hardware and electrical appliances, cultural and educational supplies, film and television equipment, electromechanical products, plumbing fittings, valves, bearing rings, shafts and small workpieces such as glasses manufacturing. It is the most ideal high-efficiency equipment in the hardware machining industry.
Causes and solutions of spindle box heating of NC instrument lathe:
1. The spindle runs over speed for a long time and generates heat. Solution: adjust the bearing clearance, appropriately reduce the spindle speed (which shall not exceed the design maximum speed of the machine tool), and apply high-speed grease on the bearing.
2. The main shaft bearing clearance is too tight and generates heat. Solution: refer to section 4 to adjust the bearing clearance of the main shaft.
3. The main shaft bearing is rusted, worn and heated, and parts of the main shaft may be worn or rusted after long-term fatigue use or in humid environment; Long storage time without use will also cause bearing rust. Solution: clean the bearing, adjust the grease or replace the bearing.
Technical parameter

Item

Unit

Parameter

Machine tool model

mm

0640

6130

6150B

Max rotation diameter of lathe bed

mm

Φ260

Φ320

Φ500

Max rotation diameter on sliding plate

mm

105

180

295

Guide rail width

mm

260

300

390

Maximum turning diameter

mm

Φ320

Φ500

Maximum tip distance

mm

350

1000

X-axis travel

mm

280

280

280

Z-axis travel

mm

200

350

350

X / Z fast moving speed

mm/min

6000/8000

6000/8000

6000/8000

Torque of X-axis servo motor

Nm

4

4

6

Torque of Z-axis servo motor

Nm

4

6

10

Spindle speed range

Low speed

100/2600

100/2600

45-260

Medium speed

140-800

High speed

280-1600

Spindle head form

type

A2-5

A2-5

A2-8

Spindle through hole diameter

mm

49

49

Φ82

Inner taper hole of spindle

1:15/56

1:15/56

1:20/82

Manual three jaw chuck

mm

Φ160

Φ160

Φ250

Spindle motor power

kw

3kw

4kw

7.5kw/11kw (optional)

Form of electric tool holder

type

Vertical four station

Tool specification

mm

20×20

20×20

25×25

Tailstock sleeve diameter

mm

Φ55

Φ75

Taper of tailstock sleeve hole

mm

MT4#

MT5#

Tailstock sleeve travel

mm

150

150

Package size

cm

150/110/155

210/130/155

270/150/180

Machine weight

Kg

900

1300

2400