Manual Stacker
Date:2022/9/28 19:23:57 Visits: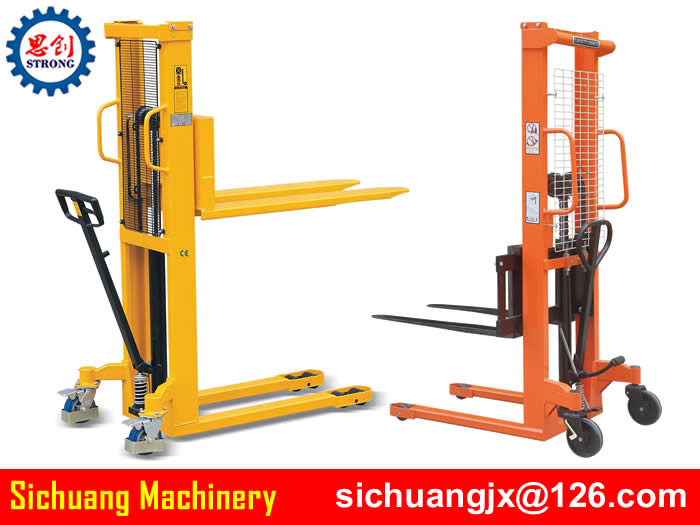 Manual Stacker video
Manual Stacker Description
1. Before using the manual stacker, check the status of the hydraulic cylinder to ensure that there is no oil leakage. Hold the control handle with both hands to force the vehicle to drive slowly towards the working goods. The manual stacker can load goods after it stops stably, and cannot stop on the ramp or on the road with pits.
2. How to load and unload the manual stacker:
(1) When the fork is in the low position, keep it perpendicular to the shelf and be careful to approach the shelf.
(2) Raise the fork to the required height. Height, move slowly to the pallet to be unloaded, and ensure that the fork can easily enter the shelf and the goods are in the safe position of the fork.
(3) Lift the fork until the pallet is lifted off the shelf.
(4) Return slowly in the hallway.
(5) Lower the cargo slowly and ensure that the forks do not touch obstacles during lowering.
Note: When the goods are lifted, the steering and braking operations must be slow and careful. Withdraw the manual stacker and remove the fork hole of the pallet.
3. How to stack with manual stacker:
(1) Keep the goods low and close to the shelf carefully.
(2) Lift the goods to the top of the shelf.
(3) Move forward slowly and stop when the goods are higher than the shelf. At this time, put down the pallet and note that the fork should not exert force on the shelf below the goods to ensure that the goods are in a safe position.
(4) Return slowly to ensure the tray is in a safe and secure position.
(5) Lower the fork to a position where the stacker can move.
4. Necessary safety measures for the use of manual stacker:
(1) When carrying goods, it is not allowed to be overweight or biased. Pay attention to the load center distance.
(2) Do not drive or stay on the ramp.
(3) When entering and exiting the elevator, the goods shall be delivered first, and the people shall be delivered later. It is guaranteed that the people shall deliver the goods first and then deliver the goods.
(4) Pay attention to the load proportion of the manual stacker. It is not allowed to drive when carrying goods, so as to prevent the center of the goods from moving up and overturning.
5. Prohibitions for manual stacker:
(1) It is prohibited to operate the storage forklift after drinking.
(2) Overloaded, uneven and flat goods shall not be stacked.
(3) Riding is prohibited.
(4) It is prohibited to stop on the ramp or step.