Hydraulic Pile Driver
Date£º2022/5/9 15:55:49 Visits£º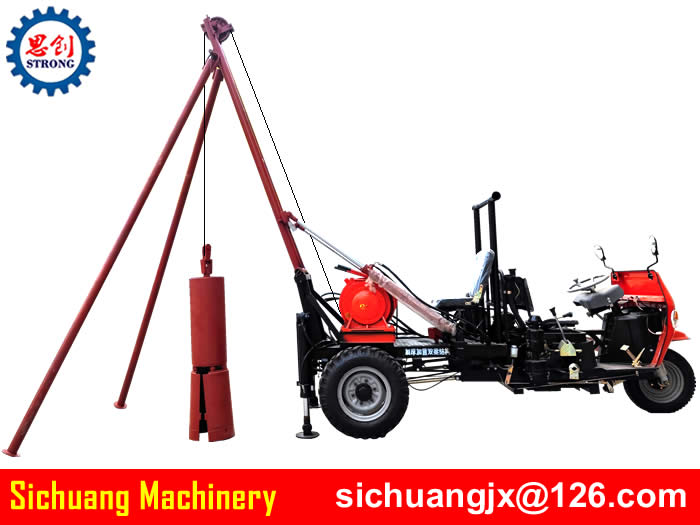 Hydraulic Pile Driver video
Hydraulic Pile Driver Description
Full hydraulic pile driver is one of the necessary equipment for road construction companies and large and small engineering teams in the installation, construction and maintenance of highway guardrails. This equipment plays a very important role in the installation of highway guardrails in China and even abroad. Since its establishment, it has been engaged in the R & D and manufacturing of highway guardrail installation, maintenance, emergency repair and construction equipment. The pile driver has stable and reliable performance. In terms of use and maintenance, it can be loaded, unloaded, moved and transferred by itself. During transportation, the upper main frame can be retracted and folded, which saves a lot of costs and trouble in hoisting and disassembly. The pile driver is not only efficient, economical and practical. It is the best choice for customers, but also can adapt to the working environment of all kinds of bad weather and working conditions.
Maintenance method of diesel tricycle hydraulic pile driver:
1. During operation, carefully check whether the power head, or the flange bolts of the vibrating hammer and the bolts and nuts of the operating mechanism are loose every day.
2. When working, pay attention to whether the ball socket under the lead screw moves up and down every day. If there is any string movement, stop working immediately, remove the end cover of the ball socket under the extended beam, make the diagonal brace under pressure, tighten and lock the lower nut, and weld the nut with electric welding if necessary. When the temperature drops below zero in winter, check whether there is ponding in the extended beam, and remove the ponding in time to prevent freezing and loosening the nut.
3. When the diagonal brace rotates, pay attention to observe whether there is swing. If there is swing, replace the guide copper sleeve or copper nut in the diagonal brace in time.
4. The reducer is used for the operation of the machine. It is necessary to observe whether the internal lubricating oil reaches the specified oil level. If it is insufficient, hj-10 (gb443-64) mechanical oil shall be filled, and the diagonal brace adjustment mechanism shall be filled with 40# engine oil (please refer to the use details of hydraulic oil and lubricating oil of crawler pile driver). During operation, the oil level is under the vent plug hole.
5. The oil tank, oil pump and control valve of hydraulic system shall be kept clean. The first oil change time is 200 hours, and then every 1000 hours. Each time the oil tank is changed, it must be carefully cleaned to prevent dirt from entering the oil.
6. The pulley blocks, bearings and other rotating parts of the pile frame are equipped with oil nozzles, and calcium based lubricating grease shall be added on time.
7. The track chain shall be cleaned every working day to ensure that the track is clean and operates normally.
8. The slip of power head, nylon sleeve of pulley and copper sleeve of main winch shall be replaced in time.
9. The steel wire rope shall be inspected, maintained and used according to relevant national standards.
10¡¢. The supporting mechanism shall be used and maintained according to the requirements of the supporting instructions.