Electric Forklift
Date:2022/1/4 13:15:39 Visits: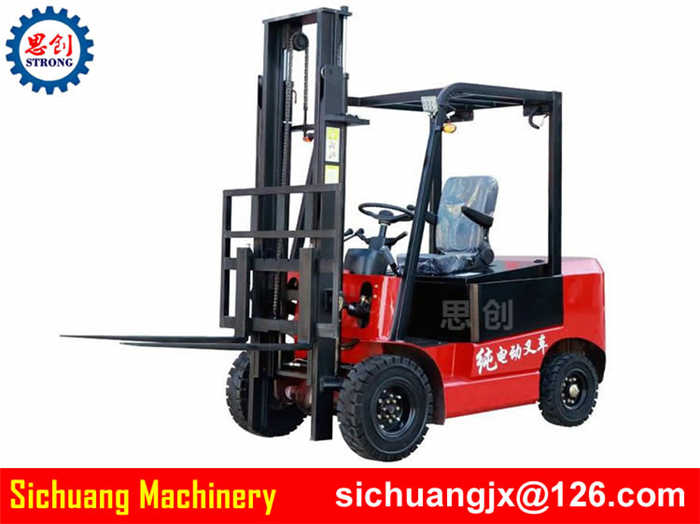 Electric Forklift video
Electric Forklift Description
Electric forklifts are forklifts that operate with electricity, most of which work for batteries. The battery is one of the batteries. Its function is to store the limited electric energy and use it in a suitable place. Its working principle is to convert chemical energy into electrical energy. This kind of battery is installed in the battery of electric forklift. Note: the battery should not be placed horizontally! Because the inside of the battery is generally 22 ~ 28% dilute sulfuric acid. When the battery is placed horizontally, the electrolyte can submerge the electrode plate and leave some space. If the battery is placed horizontally, some electrode plates will be exposed to the air, which is very unfavorable to the electrode plate of the battery. Moreover, the observation hole of the general battery or the top of the battery are connected with the outside, so the electrolyte is easy to flow out when the battery is placed horizontally.
Usage of electric forklift:
1. Keep proper starting speed when starting, and do not rush.
2. Pay attention to the voltage of the voltmeter. If it is lower than the limit voltage, the forklift shall stop running immediately.
3. When the forklift is moving, it is not allowed to change the driving direction by pulling the direction switch to prevent burning electrical components and damaging gears.
4. Driving and lifting should not be carried out at the same time.
5. Pay attention to whether the sound of the drive system and steering system is normal. In case of abnormal sound, the fault shall be eliminated in time. It is strictly prohibited to work with disease.
6. Slow down in advance during the transition.
7. When working on poor roads, its importance shall be appropriately reduced, and the driving speed shall be reduced.
Precautions for electric forklift operation:
1. Before lifting, you must know the weight of the goods, which shall not exceed the rated lifting capacity of the forklift.
2. When lifting and packaging goods, pay attention to whether the goods are wrapped firmly.
3. Adjust the fork spacing according to the size of the goods to make the goods evenly distributed between the two forks to avoid partial load.
4. When the goods are inserted into the cargo pile, the gantry shall tilt forward. After the goods are loaded into the fork, the gantry shall tilt back to make the goods close to the fork wall, and lower the goods as much as possible before driving.
5. The lifting of goods shall generally be carried out in a vertical position.
6. During manual loading and unloading, the hand brake must be used to stabilize the fork.
7. Walking and lifting are not allowed to operate at the same time.
8. When carrying goods on steep roads, pay attention to the firmness of the goods on the fork.
| | | |
| --- | --- | --- |
| Model | SC-0.5T | SC-1T |
| Max lifting capacity | 0.5Ton | 1Ton |
| Product voltage | 60v | 60v |
| Traveling motor | Brushless motor 2.2kw | Brushless motor 3kw |
| Lifting motor | 1.5kw | 1.5kw |
| Turning radius | 45 degrees/90 degrees | 90 degrees(Can turn in place) |
| Fork | 1m | 1.07m |
| Frame material | Thickened steel plate body | Thickened steel plate body |
| Solid tire | Front wheel 500-8, rear wheel 400-8 | Front wheel 500-8, rear wheel 400-8 |
| Five batteries | Standard configuration 180 | Standard configuration 260 |
| Endurance | 6-8hours | 6-8hours |
| Cylinder | Single cylinder | Double cylinder |
| Steering system | Hydraulic / mechanical assistance | Hydraulic power |
| Gantry material | C-shaped steel | C-shaped steel |
| Lifting height | 2m | 3m |
| Product weight | 1.1t | 1.7t |
| | | |
| --- | --- | --- |
| Model | SC-1.5T | SC-2T |
| Max lifting capacity | 1.5Ton | 2Ton |
| Product voltage | 60v | 60v |
| Traveling motor | Brushless motor 4kw | Brushless motor 5kw |
| Lifting motor | 1.5kw | 3.0kw |
| Turning radius | 90 degrees | 90 degrees |
| Fork | 1.22m | 1.22m |
| Frame material | Thickened steel plate body | Thickened steel plate body |
| Solid tire | Front wheel 500-8, rear wheel 400-8 | Front wheel 650-10, rear wheel 500-8 |
| Five batteries | Standard configuration 320 | Standard configuration320 |
| Endurance | 8-10hours | 8-10hours |
| Cylinder | Double cylinder | Double cylinder |
| Steering system | Hydraulic power | Hydraulic power |
| Gantry material | C-shaped steel | G+C-shaped steel |
| Lifting height | 3m | 3m |
| Product weight | 2.1t | 3t |