Scrap Rebar Straightener
Date:2022/1/4 15:21:18 Visits: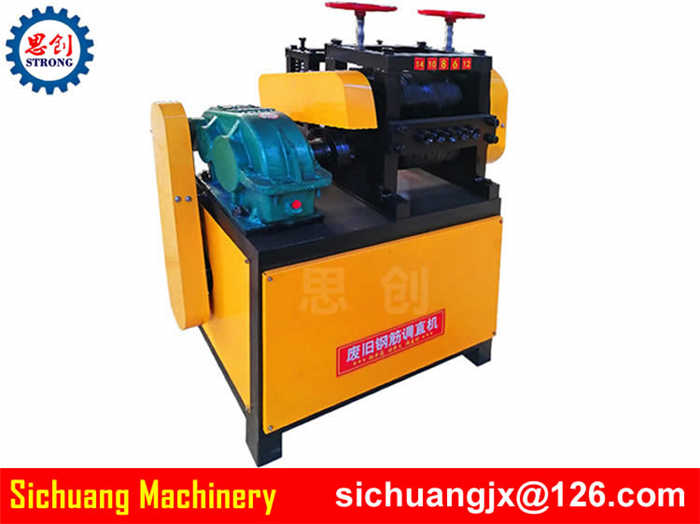 Scrap Rebar Straightener video
Scrap Rebar Straightener Description
Waste steel bar straightening machine, also known as waste steel bar straightening machine, old steel bar straightening machine and steel bar straightening machine, is a construction machinery and equipment that can process and straighten bent steel bar, old steel bar, waste steel bar and steel bar head. Because it can straighten the waste reinforcement (no matter how bent it is), it has the excellent characteristics of turning waste into treasure, recycling resources, green and pollution-free. Therefore, with the further rapid development of China's economic situation and reform and opening up, as well as the rapid development of China's real estate industry, construction industry, steel industry and other related industries, at this time, as a waste steel resource that can be turned into a waste steel bar straightener for people's recycling, its role is becoming more and more obvious. It can save a large number of steel resources for China, save human resources, improve the production efficiency of enterprises and reduce the social burden. In fact, it is an invention and creation beneficial to the country and the people.
Characteristics of waste reinforcement straightener:
1. Straighten and straighten quickly. After straightening, the reinforcement surface is basically free of scratch and good straightness.
2. Fixed length cutting can meet the needs of customers, with neat incision, small error and good performance.
3. At the same time, it has the functions of elongation and rust removal.
4. Time and labor saving, fast and efficient, green and energy saving, simple operation, safety and convenience.
| | | | |
| --- | --- | --- | --- |
| Model | SC-6-14 | SC-10-18 | SC-6-20 |
| Machining diameter | 6-14mm | 10-18mm | 6-20mm |
| Shortest machining | 300mm | 300mm | 300mm |
| Motor power | 4KW 380V | 7.5KW 380V | 11KW 380V |
| Number of Inlet | 5 | 5 | 8 |
| Reducer model | ZQ250# | ZQ350# | ZQ400# |
| Efficiency | 30m/min | 30m/min | 30m/min |
| Weight | 500Kg | 630Kg | 830Kg |
| Size | 115*75*130cm | 130*90*130cm | 140*100*135cm |