Diesel Winch
Date:2022/1/4 15:06:36 Visits: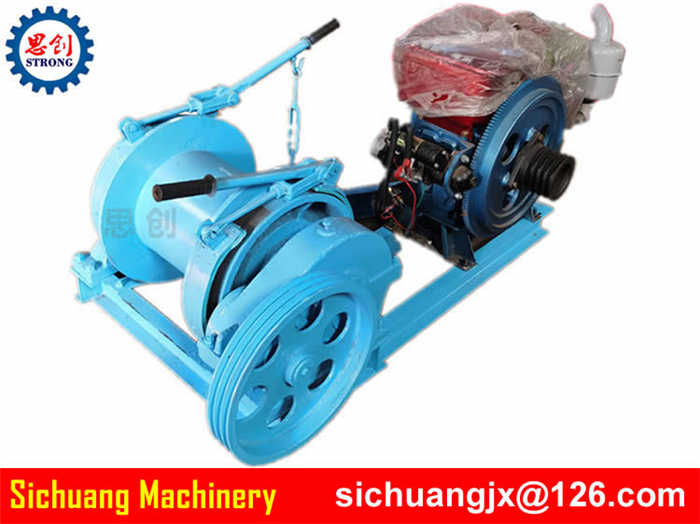 Diesel Winch video
Diesel Winch Description
Diesel winch, a light and small lifting equipment that uses a drum to wind a steel wire rope or chain to lift or pull heavy objects, also known as winch. The winch can lift vertically, horizontally or obliquely to pull heavy objects. Hoists are divided into manual hoists, electric hoists and hydraulic hoists. Mainly electric winch. It can be used alone or as an integral part of machinery such as hoisting, road construction and mine hoisting. It is widely used because of its simple operation, large amount of rope winding and convenient displacement. It is mainly used for material lifting or leveling in construction, water conservancy engineering, forestry, mining, wharf, etc.
Precautions for manual diesel winch operation:
1. The steel wire ropes on the drum shall be arranged in order. In case of overlap and oblique winding, it shall be stopped and rearranged. It is forbidden to pull and step on the steel wire rope with hands and feet during rotation. The steel wire rope shall not be fully released, and at least three turns shall be reserved.
2. The steel wire rope shall not be knotted or twisted. If the wire break exceeds 10% within a pitch, it shall be replaced.
3. During operation, no one shall cross the steel wire rope. After the object (object) is lifted, the operator shall not leave the winch. Objects or cages shall be lowered to the ground during rest.
4. During operation, the driver and signalman shall maintain good visibility with the lifted object. The driver and signalman shall cooperate closely and obey the unified command of the signal.
5. In case of power failure during operation, cut off the power supply and lower the lifting object to the ground.
6. Follow the signal of the commander during work. When the signal is unclear or may cause an accident, the operation shall be suspended and the operation can be continued only after the situation is clarified.
Model

Lifting

capacity

Power

Dimension

Drum

Linear

speed

Weight

Circumference

Length

Groove depth

JK-1T

1000kg

5.5kw

56*30*37(cm)

59cm

22.5cm

5.5cm

36m/min

65kg

JK-2T

2000kg

7.5kw

64*36*42(cm)

59cm

25.5cm

8cm

36m/min

130kg

JK-3T

3000kg

11kw

77*48*53(cm)

90cm

32cm

9cm

30m/min

260kg

JK-5T

5000kg

15kw

105*63*73(cm)

117cm

39cm

12.5cm

30m/min

450kg

JK-8T

8000kg

18.5kw

130*65*73(cm)

120cm

45cm

11cm

20m/min

660kg

JK10T

10000kg

22kw

130*90*73(cm)

120cm

45cm

11cm

16m/min

750kg

JK-12T

12000kg

25kw

146*70*82(cm)

122cm

49cm

12.5cm

25m/min

860kg