Hydraulic Winch
Date£º2022/1/4 15:28:54 Visits£º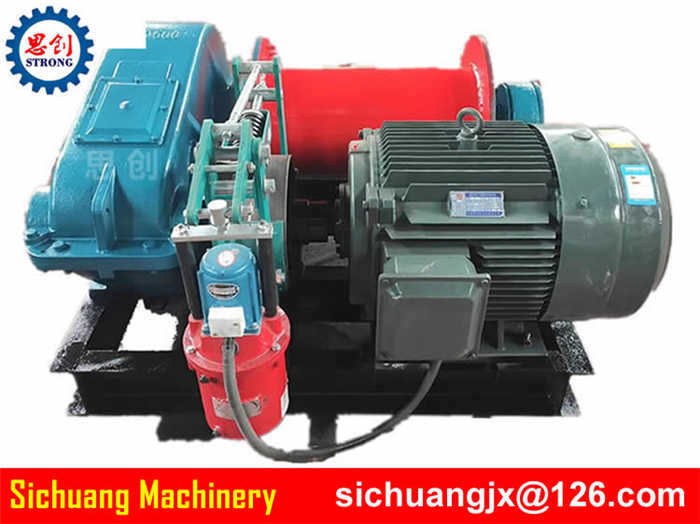 Hydraulic Winch video
Hydraulic Winch Description
Hydraulic winch is a lifting tool powered by motor and rotating the drum through the driving device. The speed of the motor can be controlled by frequency converter. It is mainly used for hoisting, pulling, unloading and dragging heavy objects. Such as the installation and disassembly of various large and medium-sized concrete, steel structure and mechanical equipment. It is applicable to civil construction and installation works of construction and installation companies, mining areas and factories. Electro hydraulic winch (also known as winch) is a device that drives the drum and winding rope by human or mechanical power to complete the traction work. Heavy objects can be lifted vertically, horizontally or obliquely. Hydraulic winch is divided into manual hydraulic winch and electro-hydraulic winch. Now mainly electric hydraulic winch. The electro-hydraulic winch is composed of motor, coupling, brake, gearbox and drum, which are jointly installed on the frame. In the case of large lifting height and loading and unloading capacity and frequent work, the speed regulation performance is good, which can make the empty hook drop quickly. For materials installed in place or sensitive, it can use a small speed.
Safety operation regulations for Hydraulic Winch:
1. The driver of the hydraulic winch shall be professionally trained and take the post with certificate. During operation, he shall concentrate. If any obstacle is found in the sight, it shall be removed in time. When the signal is unclear, he shall not operate.
2. Idling shall be carried out before operation, and the operation can only be carried out after confirming that the electrical, braking and environmental conditions are good. The operators shall know the main contents and workload of the operation on duty in detail.
3. When the lifted object does not completely fall on the ground, the driver shall not leave his post. When resting or suspending operation, objects or lifting cages must be lowered to the ground. After work, cut off the power supply and close the switch box.
4. The driver shall pay attention to the operating conditions and the wear of steel wire rope at any time. When the load changes and is lifted for the first time, stop 0.5m above the ground and continue to rise when there is no problem.
5. When using a single cylinder hydraulic winch, the descent speed must be controlled by braking. Do not brake too fast or violently, but fall slowly.
6. It is forbidden to use handle type switch to prevent collision and misoperation.
7. The steel wire rope shall be coated with grease regularly and placed in a special channel to prevent rolling and overturning from damaging the strength of the steel wire rope.