Electric Winch
Date:2022/1/4 15:06:21 Visits: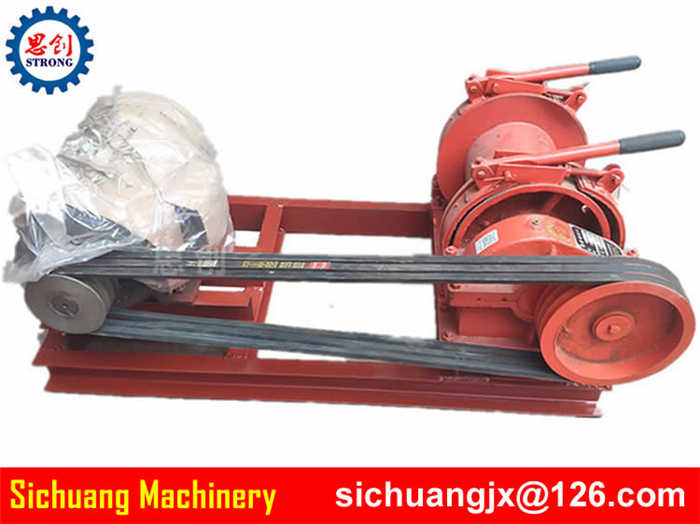 Electric Winch video
Electric Winch Description
Fast electric winch is also called electric winch. A device that drives the drum and winding rope by human or mechanical power to complete the traction work. Simple lifting machinery for lifting, horizontal or inclined traction of heavy objects. There are two kinds of electric and dynamic, mainly electric. The fast winch is a winch with the rated speed of steel wire rope on the drum of about 30m / min. The electric hoist is mainly used for cargo lifting and large-scale hoisting projects. It is suitable for civil construction projects of construction and installation companies, mining areas and factories. It is required to have good speed regulation performance and be able to reduce at micro speed. The electric control fast winch is mainly used in buildings, railways, factories and mines, bridges, etc. it is suitable for installation for vertical lifting, horizontal and slope dragging heavy objects and other working conditions.
Instructions for use of fast electric hoist:
1. In case of sudden power failure during operation, the knife switch shall be opened immediately and the transported goods shall be put down.
2. After the operation, the material tray shall be landed and the electric box shall be closed and locked.
3. Wear of wire rope and machinery during use Spontaneous combustion corrosion and local damage are inevitable, and protective oil shall be painted at intervals.
4. Overloading is strictly prohibited. That is, the maximum carrying tonnage is exceeded.
5. Be careful not to knot during use Squash Electric arc injury Erosion of chemical medium.
6. High temperature objects shall not be hoisted directly, and the objects with edges and corners shall be protected.
7. The steel wire rope used shall be checked frequently during use, and shall be scrapped immediately if it meets the scrapping standard.
Model

Lifting

capacity

Power

Dimension

Drum

Linear

speed

Weight

Circumference

Length

Groove depth

JK-1T

1000kg

5.5kw

56*30*37(cm)

59cm

22.5cm

5.5cm

36m/min

65kg

JK-2T

2000kg

7.5kw

64*36*42(cm)

59cm

25.5cm

8cm

36m/min

130kg

JK-3T

3000kg

11kw

77*48*53(cm)

90cm

32cm

9cm

30m/min

260kg

JK-5T

5000kg

15kw

105*63*73(cm)

117cm

39cm

12.5cm

30m/min

450kg

JK-8T

8000kg

18.5kw

130*65*73(cm)

120cm

45cm

11cm

20m/min

660kg

JK10T

10000kg

22kw

130*90*73(cm)

120cm

45cm

11cm

16m/min

750kg

JK-12T

12000kg

25kw

146*70*82(cm)

122cm

49cm

12.5cm

25m/min

860kg