Pile Driver
Date:2022/1/4 13:24:56 Visits: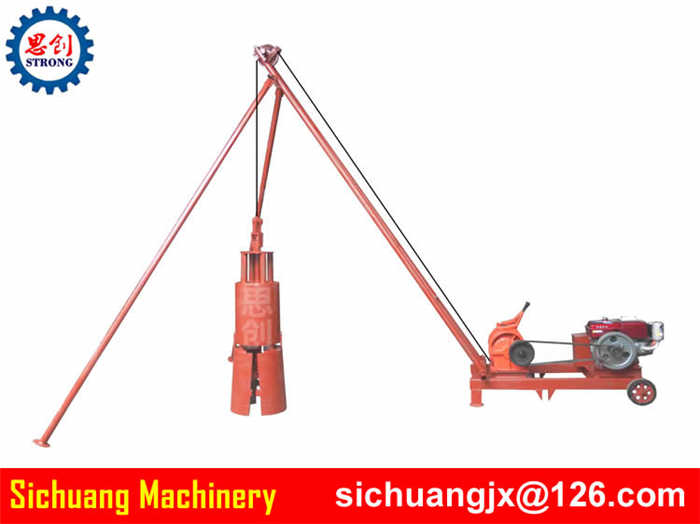 Pile Driver video
Pile Driver Description
Small pile drivers are specially used for infrastructure construction. They can drive large-diameter deep holes with a diameter of 30 cm to 180 cm and a depth of 8 m to more than 20 m. Add concrete or cement cast-in-place pile inside to support the foundation. Small pile driver is composed of winch, tripod, steel wire rope, shovel head and other main components. The shovel head is specially made, which is a cylinder. The upper half is the counterweight and the lower half is the blade. It is enclosed into a cylinder by the left and right pieces. The shovel head falls to eat the soil with its own weight. After lifting, the shovel blade is opened and closed electrically, and the soil is dropped to the dump truck. Generally, two people operate one electric Luoyang shovel, that is, one person operates the winch and one person pushes the small tipper to transport soil. Its work efficiency is 15 times that of manual work. The other is to install the shovel head on the tractor head for operation, which is convenient for handling and movement.
Advantages of small pile driver:
1. Small volume, small floor area, and easy to construct in a relatively narrow site.
2. The utility model has the advantages of light weight and solves the disadvantage that the ordinary pile driver is not easy to move due to excessive weight.
3. Simple operation and less labor. The pile driver only needs one person to adjust the lifting and braking of the winch to complete the whole process of excavation and piling. In a real sense, it has the advantages of simple operation, less labor, convenience and quickness.
| | | | | | | |
| --- | --- | --- | --- | --- | --- | --- |
| Model | Winch | Motor | Piling diameter | Piling depth | Pile frame height | Efficiency |
| SC-30 | 1T | 5.5Kw | 30-35cm | 1-30m | 4m | 20-30piles/day |
| SC-40 | 1T | 5.5Kw | 40-45cm | 1-30m | 4m | 20-30piles/day |
| SC-50 | 2T | 5.5Kw | 50-55cm | 1-30m | 4m | 20-30piles/day |
| SC-60 | 2T | 7.5Kw | 55-60cm | 1-30m | 4m | 20-30piles/day |
| SC-70 | 2T | 7.5Kw | 65-70cm | 1-30m | 4m | 20-30piles/day |
| SC-80 | 3T | 11Kw | 75-80cm | 1-30m | 4m | 20-30piles/day |
| SC-100 | 3T | 11Kw | 95-100cm | 1-30m | 4m | 20-30piles/day |
| SC-120 | 3T | 11Kw | 115-120cm | 1-30m | 4m | 20-30piles/day |
| SC-160 | 3T | 11Kw | 155-160cm | 1-30m | 4.2m | 20-30piles/day |