Potato Peeling Machine
Date£º2022/1/4 20:26:19 Visits£º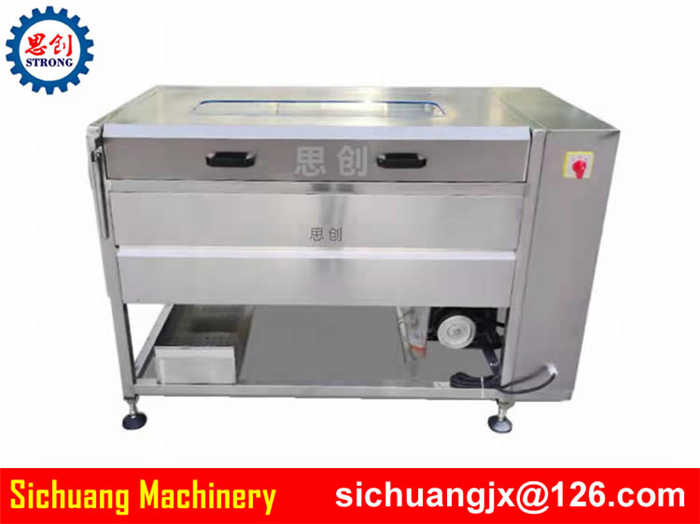 Potato Peeling Machine video
Potato Peeling Machine Description
Brush potato peeling cleaning machine is designed according to the market demand of potato chips and chips processing. It is used for brushing and peeling of round and oval fruits and vegetables. Brush potato peeling machine is mainly suitable for cleaning and peeling of potato, sweet potato and other rhizome materials. The brush potato peeling machine has the characteristics of large effective volume, high efficiency, water saving, continuous cleaning, simple operation and long service life. The brush roller material is treated by special process, durable and good wear resistance. The wool roller cleaning machine uses the spray pipe to clean without dead corner. The spray nozzle can be installed according to the cleaning requirements. The spray pipe of the whole equipment is evenly distributed and made of stainless steel to ensure the service life. The wool roller has soft wool and hard wool. Different wool rollers are used for cleaning products with different requirements. For fruits and vegetables, some to ensure clean appearance should be cleaned with soft wool roller. For those requiring peeling and hair removal, the bristle roller shall be used for cleaning.
The brush potato peeling cleaning machine is specially designed for the cleaning and peeling of oval fruits and vegetables, such as ginger, carrot, potato, sweet potato, kiwi and other root potato vegetables. When the material enters the horizontal rotating brush roller, the brush roller repeatedly rubs with each other in the same rotation direction (from high to low) of the brush cleaning peeling machine. The large brush potato peeling machine achieves the purpose of cleaning and peeling. The brush potato peeling cleaning machine is made of stainless steel, which can fully adapt to the humid environment of the processing center, clean the body and frame of the peeling machine without rust, and increase the service life of the machine.
Four advantages of brush potato peeler:
1. High grade nylon brush wire and Seiko brush are wear-resistant and do not pour hair, which can make the cleaning products cleaner and more shiny.
2. The whole machine is made of thickened steel plate, which is firm and durable. The roller is supported by four points, which is convenient to move.
3. Double row industrial chain drive, wear resistance, greater bearing capacity, safe and reliable.
4. Pulley motor makes the equipment start more stably, lower noise and longer service life.
Brush potato peeler

Model

Voltage

Power

Weight

Efficiency

Size(mm)

Capacity per time

Brush length

SC-450

220V

1.1kw

65kg

200kg/h

800*550*690

10kg

45cm

SC-800

380v

1.5kw

180kg

500kg/h

1150*820*1000

25kg

80cm

SC-1200

380v

2.2kw

230kg

800kg/h

1550*820*1000

50kg

120cm

SC-1500

380v

3.0kw

280kg

1500kg/h

1850*820*1000

75kg

150cm