Macaroni Machine
Date:2022/1/4 21:11:59 Visits: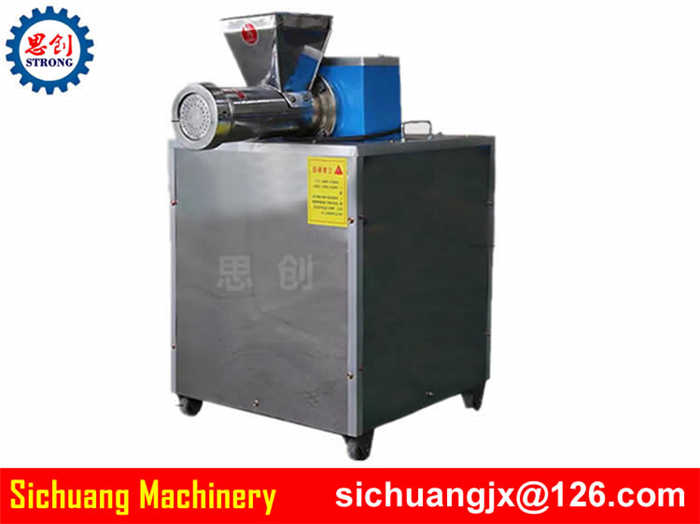 Macaroni Machine video
Macaroni Machine Description
Macaroni machine is a machine that takes flour as the main material and produces a variety of food patterns by changing different molds. Macaroni, also known as macaroni, is one of the most common flour products in foreign countries. It is also produced in Shanghai, Guangzhou, Tianjin and other places in China. There are many kinds of macaroni. Generally, starch rich grains are used to make all kinds of flour foods with good taste and unique flavor after crushing, gelatinization, flavoring, extrusion and drying. Multifunctional macaroni machine is a small food machine that can process dozens of varieties. It has the characteristics of small volume, light weight, convenient movement and simple operation.
The multi-functional macaroni machine can produce macaroni, shell noodles, five pointed star noodles, tornado noodles, hollow noodles, conch noodles and other simulated small foods, which can be processed into fried, spicy, barbecue, five spices and other flavors and tastes. You can also cook it in water and add soup to become a special snack. The main raw materials are flour, rice flour and noodle powder, one of which can be produced or mixed. This machine can be operated by one person, with high output and considerable benefit. Macaroni machine can use corn flour, color flour, vegetable flour, fruit flour and other processing to produce dozens of new food products.
Use method and operation steps of multifunctional macaroni machine:
1. Pretreatment of raw and auxiliary materials: weigh the flour to remove impurities, weigh the salt, alkali and water in a certain proportion (the water temperature is about 20 ℃), drain and stir the salt and alkali at the same time, stir until they are completely dissolved, and then pour them into the flour.
2. Put the ingredients into the flour mixer (or manually) and stir evenly.
3. Start the multi-functional pasta machine and send the mixed fabric to the multi-functional pasta machine until it is formed (made into a blank).
4. Frying: put the product into a hot oil pot (the oil temperature is maintained at about 180 °) and fry it for about 1 minute. Take it out and dry it. And hang the external material with a hanging machine (or manually).
| | | | |
| --- | --- | --- | --- |
| Model | SC-60 | SC-80 | SC-100 |
| Material | Stainless steel | Stainless steel | Stainless steel |
| Input voltage | 220 V/380V | 220 V/380V | 380V |
| Motor power | 2200W | 300W | 4000W |
| Spindle speed | 100r/min | 100r/min | 100r/min |
| Efficiency | 30Kg/h | 60Kg/h | 100Kg/h |
| Weight | 90Kg | 120Kg | 150Kg |
| Size | 500*470*780mm | 700*470*900mm | 710*480*950mm |