Chicken Cutting Machine
Date:2022/1/4 21:22:42 Visits: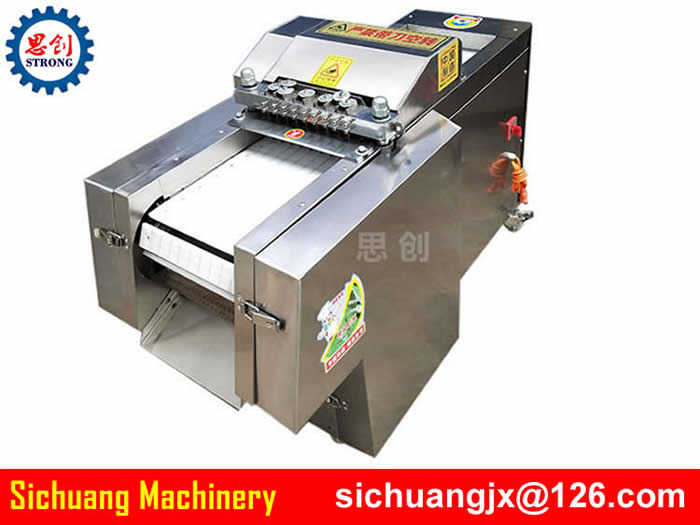 Chicken Cutting Machine video
Chicken Cutting Machine Description
The automatic chicken cutting machine can chop frozen pork and whole chicken, and can also be used for cutting small pieces of frozen meat, chicken and ribs. All parts in contact with food are made of the best stainless steel, and the surface is specially treated. The knives used are the best imported ones, with faster and better bone cutting speed and enhanced thickness design. The electric chicken cutting machine is easy to adjust the thickness of bone cutting. The imported chicken chopping machine is suitable for processing plants and refrigeration market. With pressure tensioning device, the automatic chicken chopping machine can cut more smoothly with high-speed saw band. The chicken chopping machine reduces the generation of meat chips. The machine has beautiful appearance, compact structure, simple operation, high efficiency and easy cleaning. The electric chicken cutting machine is suitable for restaurants, hotels, restaurants and collective canteens. It has high working efficiency, stable operation and low noise, Low failure rate and easy cleaning. The whole chicken chopper is safe, reliable, beautiful and luxurious. The motor cover is made of stainless steel, ad hoc anti saw cover device, and the chicken chopper is designed with emergency stop button, which can effectively ensure the safety of operators.
Advantages of automatic stainless steel chicken cutting machine:
1. The working speed of the chicken chopper is fully automatic mode, and it can cut 50 ~ 90 kg every 10 minutes.
2. The chicken chopping machine is of plane body design and all stainless steel sealing plate, which is in line with food hygiene and easy to clean.
3. Stainless steel door with special surface treatment, easy to clean and maintain.
4. The thickness adjustment plate is reinforced to facilitate the adjustment of processing thickness and will not shake when moving.
5. The chicken chopping machine is equipped with a safety pressure bar design to improve work safety.
6. The machine is waterproof, easy to clean, safe and hygienic.
7. The chicken chopper has the advantages of compact structure, beautiful appearance, simple operation, high efficiency, low power consumption, easy cleaning and maintenance, good bone cutting effect and so on.
| | | | |
| --- | --- | --- | --- |
| Model NO. | SC-20 | Trademark | SICHUANG |
| Voltage | 220V/380V | Power | 3.5Kw |
| Material | Stainless Steel | Weight | 260kg |
| Efficiency | 600kg/h | Advantage | Easy Operation High Efficiency |
| Size | 1350*650*950mm | Size of processed meat | Less than 1.5m in length and 33cm in width |
| Origin | Hebei Province,China | Transport Package | Wooden Cases |