Pancake Baking Machine
Date:2022/1/4 20:36:48 Visits: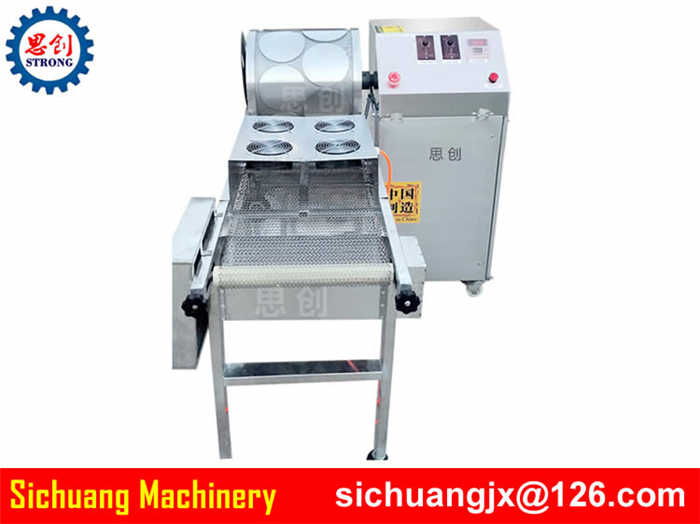 Pancake Baking Machine video
Pancake Baking Machine Description
The size of the multifunctional pancake baking machine can be customized, the heating is uniform, and the thickness can be adjusted. One time molding, no leftover materials, the pancake is not easy to be damaged, has pure taste, golden color, good consistency, good selling appearance, can be refrigerated, easy to preserve and good operability. The pancake baking machine adopts frequency conversion technology, low noise, maintenance free, simple operation, quick start, advanced and mature technology, stable and reliable performance, complete models, professional customization on demand, which can meet all kinds of customer needs, high degree of automation, save labor, reduce production cost, release labor force and create value for customers is our core. The pancake baking machine produced by our company can be operated by one person. The equipment covers a small area and is easy to use. It can be processed and sold on site in stores and vegetable farms. It is clean and sanitary. 220V power supply and gas are used together with low cost!
The pancake baking machine can make 0.3-0.8mm thick spring roll skin, small roll cake, curry corner skin, egg skin and French pancake, and can make other flake foods. It is suitable for food factories, restaurants, spring cake restaurants, roast duck restaurants, fast food restaurants, etc. The intelligent system of this equipment can be produced by one person, saving time and labor. The crust produced is thin, flexible, q-elastic, good taste, convenient for stuffing and not easy to crack.
Advantages of multifunctional pancake baking machine:
1. Non stick pot: easy demoulding, greatly reduce the product scrap rate, demoulding without edible oil, and reduce the production cost;
2. The food has no black background and greasy, and has obvious improvement in color and taste;
3. Reduce workshop oil fume, improve working environment, reduce fire possibility and improve product quality;
4. Pancake can bake big pancakes, baked pancakes, pancakes, camel stickers, water fried bags, roast duck pancakes.
5. It can also be used as supporting equipment for fried cake and silk cake strips, which overcomes the shortcomings of time-consuming and laborious manual rolling, reduces labor cost and improves work efficiency.
Pancake Baking Machine

Model

Voltage

Power

Gas consumption

Weight

Size(cm)

Cake size

Thickness

Single Row

220V

600W

0.5kg/h

150Kg

86*58*100

13cm-40cm

0.2mm-1cm

Double Row

220V

600W

0.7kg/h

200Kg

200*90*100

13cm-40cm

0.2mm-1cm